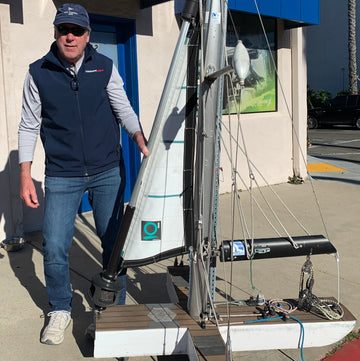 While visiting old friends in San Diego we were lucky enough to sail with the race committee at their club. We had prime seats to watch them sail in the ensign division. What a great way to begin our visit.
And they sailed right into 2nd place!
The food on Shelter Island was delicious. We recommend the Caesar Salad at Jimmy's Famous American Tavern and the Kale Salad and Burgers at Ketch. The sailboat watching- notice I did not say girl watching...from these restaurants was spectacular. It was the number sailboats that really caught our attention!
No trip would be complete without checking out a rigging shop! We stopped in at San Diego Marine Exchange. They have a great selection of rigging line and most anything a sailboat owner might need right near a number of yacht clubs.
To our San Diego Sailing Friends check out San Diego Marine Supply for your immediate needs. Visit our website to compare pricing when you have a longer lead time. We ship across the country almost daily! 
To our New England Sailing friends- Stop in the shop we are OPEN. Check out our website right from your home. Lanex yachting rope has great quality and affordable pricing. Come down and see it for yourself.
Give Jonathan a call! He loves to talk boats and wants to make sure you get the correct rigging or your boat.