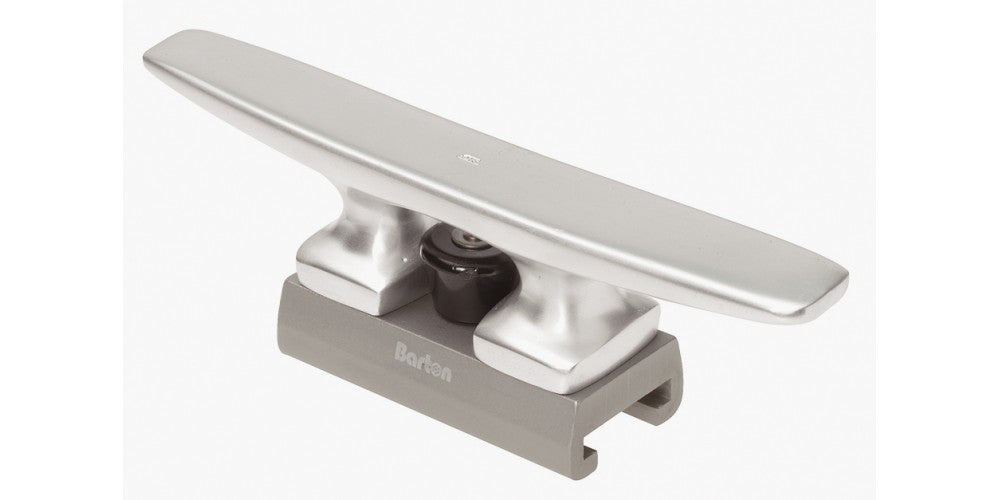 Barton Marine Sliding Cleat f/1.26" (32mm) T Track - 8.07" (205mm)
Barton Marine Sliding Cleat f/1.26" (32mm) T Track - 8.07" (205mm)
A cost effective solution to fitting a mid-ship spring cleat where access under the side deck is limited - simply remove a genoa track end stop, slide on the cleat and lock it in the desired position.  When not in use, slide the cleat to one end of the track, or leave off one track end permanently to enable easy removal of cleat. 
Alternatively, fit a short length of track in the desired position so that cleats can be fitted when required and removed when not in use - reducing deck clutter and rope snags.
Sliding cleats have an extruded Aluminum base, cast Aluminium cleat and plunger type lock.
Cars and sliders are compatible with most makes of 'T' track.
Features -
Grey anodized finish. 
Stainless Steel plunger stops with positive action.
Molded Nylon slide inserts ensure free running.
Large, easy grip plunger knobs. 
Technical Specifications - 
Barton Part Number 51323
*Sold as an Individual
×
Barton Marine Sliding Cleat f/1.26" (32mm) T Track - 8.07" (205mm)